Description

Most suitable dental air compressor for intermediate practice RA08
Roson brand air compressor is worthy of your trust.
Compact appearance structure, simple and practical, almost no maintenance.

The permanently dry system helps remove 98% of the moisture and absorbs excess moisture through the automatic dehumidification function. This means you spend less time cleaning and more time dealing with patient care. By choosing high-quality air compressor, you will be able to provide safe and hygienic service for dental patients.

It can support 8 dental chairs to operate at the same time.

The perfect silencing device and mute system provide the most comfortable environment for diagnosis and treatment;

Double motor design, fast gas supply, stable performance

On the one hand, it can prevent corrosion and rust, on the other hand, it can provide a stable and safe air supply for dental surgery, thus reducing the risk of contact with harmful bacteria and pathogens.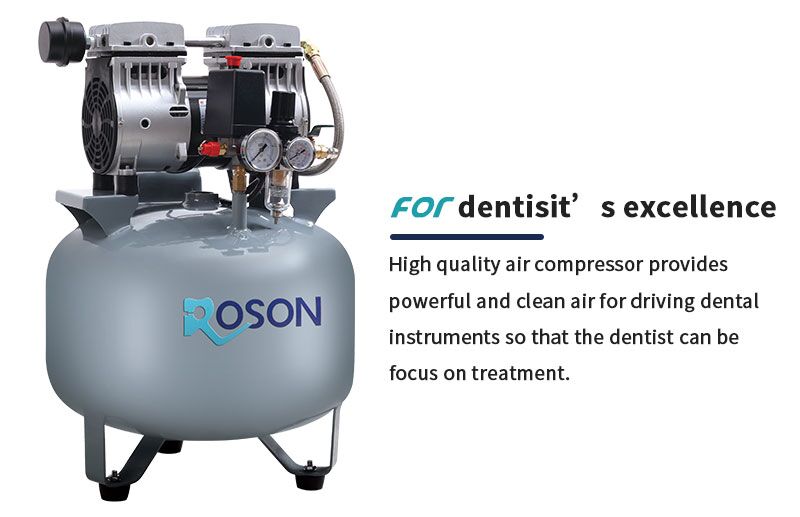 Powerfull ,Clean air ,Low noise
Low noise1.Multiple silencers2. Silicon rubber shock absorber

3.Slient nylon wheel

4. High-quality silencer with multiple filters

5. Thickness aluminum housing for sound proofing

6.Silicone rubber shock absorber well fix the compressor on floor

7.Slient nylon wheel for moving the compressor easily

Powerful

1. Copper wire motor creates great power

2. Excellent cooling system

3. Intelligent start system

4. Big cooling fan

5. Aluminum cooling plate

Clean air

1. In-tank coating for rust protection,and provides clean air for instruments

2. Automatic water discharge.

3. Automatic water discharge system assures providing dry and clean air for instruments,also works high efficiency

4. Air cooling & dryer

Cooled & dried air to fully meet the high-quality air requirement