A dental air compressor is an essential piece of equipment for any dental office or clinic. It's used to supply air and oxygen to the various dental tools used by dentists and hygienists, such as drills, polishers and ultrasonic scalers. Dental Air Compressors
Air Compressors are available in different forms and sizes, ranging from small units to large ones. The size of an air compressor depends on its power requirements, which are determined by the number of tools it will be used with and how often they need to be switched on.
The most common types of Dental Air Compressors include:
The air compressor can be either portable or stationary. Both types of Compressors have their own advantages and disadvantages that it's important to consider before making a decision.
A portable air compressor is exactly what it sounds like: a small machine that you can take with you when you're travelling to job sites or other locations where power isn't readily available. The downside of using this type of air compressor is that they're often more expensive than their stationary counterparts because there are fewer buyers for them; however, if you need something that can travel with you from one job site to another, then this might be the best option for you.
2. Stationary Air Compressors:
A stationary air compressor is usually installed in your office and stays there permanently until it needs maintenance or repairs. There are two main types of stationary Compressors: oil-free and oil-lubricated models. Oil-free Compressors don't require any oil changes or lubrication; however, they're also more expensive than their oil-lubricated counterparts.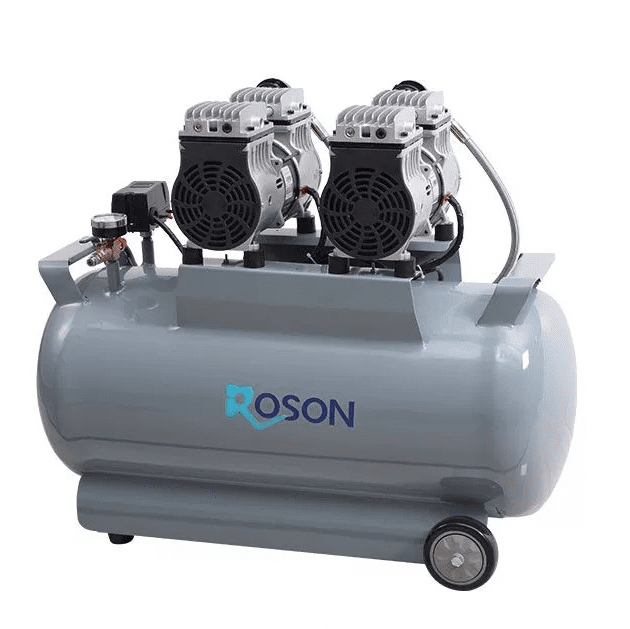 The Importance of Dental Air Compressors:
Why do we need to buy a dental air compressor? We should think of what we can do with them:
They help to provide a more comfortable experience for their patients while they are undergoing their dental treatment.
They also help to ensure that all patients are comfortable before, during and after their treatment by providing a more effective means of pain relief.
The use of Dental Air Compressors will also ensure that the dentist has access to clean air throughout the whole process and can deliver high-quality results in terms of cleaning and sterilization.
The use of Dental Air Compressors will also allow the dentist to perform other functions in the office such as checkups, fillings, root canal treatments and even extractions without having to worry about any infections or diseases being passed on from one patient to another due to poor hygiene practices or improper sterilization procedures being followed by the dentist or his staff members during their operations in the dentist's office.
Dental Compressors save time! One of the most important things about having a dental air compressor is that it saves time. If a dental office does not have one installed, then they will have to keep filling up their tank with water during procedures like cleaning or filling cavities. This takes so much more time than just using an air compressor because they don't have to stop every few minutes while they wait until the tank refills itself again.
How Does A Dental Air Compressor Work?
Before we understand how a dental air compressor works, we are better to understand its internal structure.
The structure of most Dental Air Compressors resembles that of a centrifugal pump. In this type of pump, there are two chambers: one containing fluid and another containing the impeller (rotor). A shaft connects these two chambers so that when they rotate at different speeds, they create a pressure difference between them. The difference in pressure causes fluid to move from one chamber to another through an opening.
Dentists use Dental Air Compressors to clean and polish teeth. The process is called air abrasion, and it uses a handpiece that is attached to the compressor by a hose.
A dental air compressor works in much the same way as any other air compressor. It compresses air that's stored in an air tank and then pumps it out through hoses or tubing. In this case, compressed air is used to power the handpiece and its associated equipment. What are the characteristics of Dental Air Compressors?
1. Features Of Portable Dental Air Compressors:
Portable Dental Air Compressors are lightweight and portable. They are easy to carry and can fit in a small space. Some portable Dental Air Compressors can be used with a battery while others need to be plugged in. Portable Dental Air Compressors have different features like pressure regulation, shut-off valves, etc. These features make sure that the compressor is safe to use and lasts longer.
Portable Dental Air Compressors usually come with an integrated regulator that allows you to control pressure at your fingertips so you don't overfill instruments or damage delicate surfaces like porcelain crowns or veneers. Some also have flexible hoses that allow for easy mobility around your practice without having to unplug each time you move from one room to another.
2. Features Of Stationary Dental Air Compressors:
Stationary Dental Air Compressors are fixed in one place and cannot be moved from one place to another. They are also called floor models as they cannot be used without any support from other objects like table stands etc. Stationary Dental Air Compressors have more features than portable ones because they have more space inside which allows internal components to be bigger in size resulting in better performance and efficiency. However, stationary Dental Air Compressors require more maintenance than portable ones as they contain many parts inside that need regular cleaning and lubrication.
What Should Pay Attention To When Using A?
Check the power cord regularly. The most common cause of problems with air Compressors is a broken power cord. Keep your eyes on the power cord, if you feel that there are some problems with the power cord, such as a short circuit or damage, change it immediately;
Regularly check whether there are any signs of water leakage from the air compressor;
Check whether there are any foreign objects in the water tank and clean it regularly;
Check whether there are any problems with the valve regulator and replace it if necessary;
Conclusion:
Dental Air Compressors, as a must for dentists, are very important equipment. So you need to be more careful when choosing to buy. Here, we recommend Roson as your dental equipment supplier because of its nearly 20 years of production experience. From its experience, Roson must be very mature in the production of dental equipment. So don't hesitate, to choose Roson and get a better dental air compressor!
If you choose Roson, you will get a dental air compressor with a powerful system, with clean air and low noise working experience.